Quick Cleaning Tips For Your Home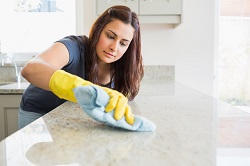 If you want to give your house a deep clean but don't have enough time to do it properly then why don't you check out the little cleaning tips below that can make a big difference in your home! With just a few little tips, you can transform your home from drab to upbeat and can still have time to go out for that quick evening drink! So why stay in and let your house cleaning get you down when all you need to do is have a half hour clean!Blitz Your Bathroom When you open your bathroom door what do you see? Is there dirty laundry on the floor and lime scale on the tiles? Then don't despair, as all you need to do is put on your rubber gloves and get down to business. Spray a home cleaning product on your shower, bath and tiles before bleaching your toilet and wiping down your sink. Vinegar mixed with water is great for getting rid of streaks on your bathroom mirror and shower screen, and can even help you to get your taps looking shiny and new. Once you've done that all you need to do is give your tiles and bath a quick wipe before giving your floor a quick mop. If you do this on a regular basis then there'll be no need spend hours scrubbing between the tiles or cleaning your shower head and all you'll need to do is to have a quick bathroom blitz instead!Clean Up Your Kitchen Some people spend hours thinking about how much they hate their kitchen cleaning before they even get started. But if you get stuck in and really plan it out there really is no need for it to take hours. Invest in an intensive oven cleaning product for your oven and some de-greaser for your cooker and all you'll need to do is give it a quick wipe when it's worked its magic. Dishwashers are great even for those tough pots and pans, while microwaves can be easily cleaned with some hot soapy water. If you've got burnt-on food or stains, then remember to leave your cleaning products to soak for a little while before wiping them off with ease. Remember if you're in a rush then all you really need to do is wipe the worktops, put the dishwasher on and mop the floor, the rest can always wait until next time instead!Spritz Your FurnishingsIf you've got people coming round to your home then you may want to go on a quick carpet cleaning mission. When you've only got a little bit of time then vacuum the obvious areas before spritzing your cushions, sofas and curtains with an air freshening product. If you've got visible stains then remember that some stain removal products only need a few minutes to work so if you've got the products ready you'll have plenty of time to sort it out! If not, then well placed cushions and furniture can help to hide away your stains until you've got time to sort it out for real. Vacuuming your sofas and chairs can also help to get rid of those unsightly crumbs ASAP and can make your house clean in just a few of minutes.So if you want to give your home a quick surface clean there is plenty that you can do in just a few minutes. Having the right products and keeping on top of your basic house cleaning jobs can help, as can planning it out and getting stuck in!
You may also like:
As a business owner, you know that the success of your business depends on various factors – and not just on...
Patios look great in any garden, they are low maintenance, tidy and neat and ideal for summer entertaining and...